Burgundy vineyards victims of bad weather
Publié le 14/06/2016
Buds blackened by frost, floods, vines covered by hailstones like a carpet of snow: the months of April and May had some really bad surprises for Burgundian producers.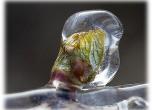 Ravaged by hailstorms at the end of May, some Burgundian vineyards, particularly those in the Yonne region, suffered heavy damage (Saint-Bris-le-Vineux, Chitry and Préhy).
This latest episode followed unexpected bad weather that had hit the Chablis region fifteen days before. Broken branches, leaves and buds torn off:  close to 500 hectares of vines also hit by hailstorms.
2016 is certainly not going easy on Burgundian wine-growers!
A few weeks ago, some of the vines suffered a black frost, which destroyed numerous buds. Floods also affected numerous areas in mid-May.
Huge blows for the industry, which portends a much jeopardized harvest in certain areas.