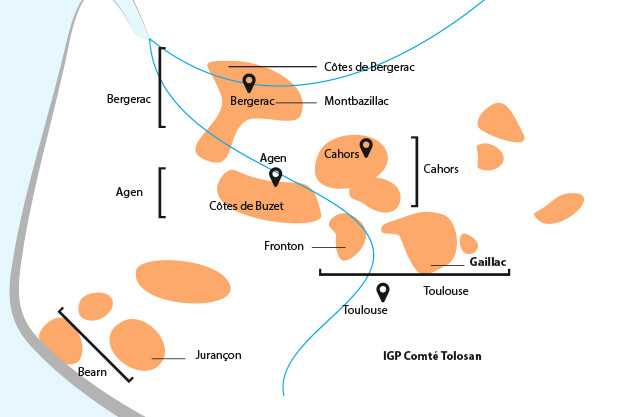 Grands Vins Sélection - a prominent figure in the South West
The South West represents 10% of our volumes, with IGP Comté Tolosan being our principal reference in the region, followed by Cahors, Gaillac and Bergerac. We are able to source all the appellations of the South West and adapt them to our clients' different requirements.
The South West : huge export success for these French wines
As the fourth biggest wine growing region of France, the South West can count 29 AOP and 14 IGP wines over its 60,000 hectares covering 12 departments. It produces 450 million bottles of which 30% are AOP, 45% are IGP and 25% are wines without geographical indication. Export takes up 70% of the IGP wines and 20% of AOP.
Vineyards rich in history
It was the Romans who brought the first vines with them to be planted in the soils of the South West. This conquering nation introduced wine as the principal drink of civilised people. The gentle, well irrigated limestone clay slopes of the South West, the mild climate and the navigability of the rivers provided the right conditions for wine trading, towards Bordeaux, Rome and more distant countries of Northern Europe. The culture of the vine continued with the support of the clergy who used the wine during mass. The wines were named after their point of expedition: Cahors, Gaillac, Moissac...