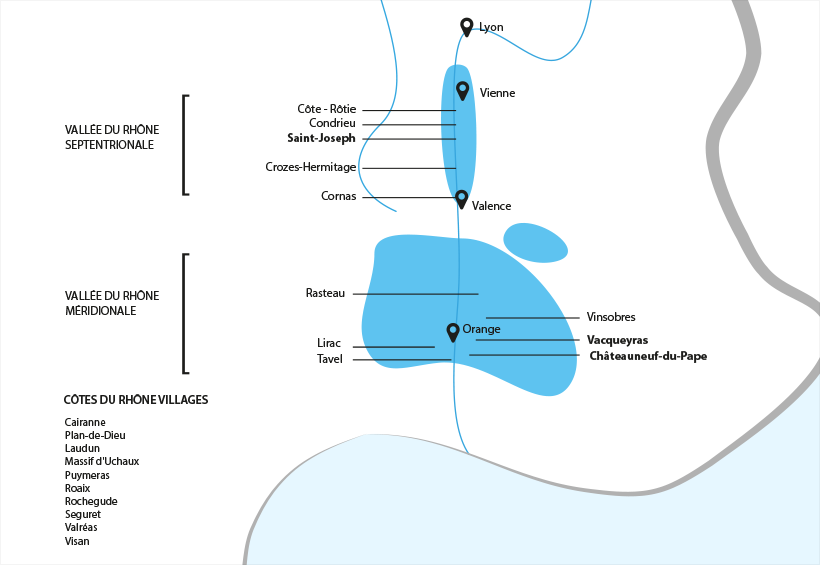 Grands Vins Sélection - Production in the heart of the Rhône Valley
The privileged geographical position of our production facility in the Rhone Valley allows us to select only the best of this superb winegrowing region of France which represents 20% of our activity. The wines that we propose are meticulously selected for their typicity and expression of the terroir, for maximum authenticity. Our expertise is at your service to source the appellations that are adapted to your range and create a personalised look specially conceived to find resonance with your target customers.
Grands Vins Sélection
, above all possess an exhaustive knowledge of the exceptional
wines of the Rhone Valley
that can introduce you to the wine that is ideal for you. We propose a selection of the best wines from prestigious appellations such as
Châteauneuf-du-Pape, Côte-Rôtie, Condrieu, Hermitage…
but also from amongst the Côtes-du-Rhône and Côtes-du-Rhône Villages.
The Rhône Valley, one of the biggest vineyards of France
The Rhône Valley is
the second biggest wine growing areas in France,
, stretching over some
71,000 hectares
and is one of the most diverse vineyards in the country. It is made up of 16 Crus, 18 Côtes du Rhône Villages and 2 Vins Doux Naturels (dessert wines). Famous for its powerful and structured red wines, which represent 80% of its production, the Rhone Valley also produces excellent rosés (14%) and white wines (6%). The climate here is well adapted to vine culture, with the famous Mistral wind that dries out the vines after rain and keeps them healthy and a high number of sunshine hours ensuring optimum maturity of the grapes.
It all began 600 years before Christ
The first vine plants of the Rhone Valley most probably arrived with the Greeks, 600 years before Christ. When the Romans arrived they made roads, created towns and immense agricultural estates which saw the beginning of wine production in the Rhône Valley. The vines were planted on what were often extremely steep inclines, with local grape varieties particularly well adapted to the local climate and conditions. The proximity of the great River Rhone ensured the commercial distribution of the wines.