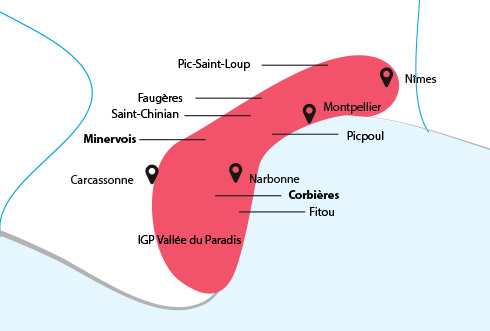 Grands Vins Sélection - A major player in the Languedoc
The vineyards of the Languedoc account for the greater part of our activity, with 38% of our volumes coming from this region. The wines that we propose are of high quality, well adapted to international markets. We have a wide range of IGP wines (Oc, Hérault,…) or AOP (Corbières,…).
The Languedoc. A vast vineyard with a multitude of quality wines
The Languedoc wine region sweeps in an arc of 200 kilometres along the Mediterranean coast, from the city of Nîmes to the Spanish border. Today the vines of the Languedoc cover 40 000 hectares and englobe 19 appellations, producing wines in the following proportions:
77.5 % red
14.5 % rosé
8 % white
Languedoc wines. Wines of character that carry the stamp of the terroir
The hillsides of the Languedoc are made up of dry, rocky soils ideal for vine growing. The wines that originate from here carry the imprint of their natural environment:
The red wines are medium to intense in colour, with aromas that go from black and red fruit to spicy, toasted notes with a solid structure.
The rosés are usually a blend of two varietals. Gleaming bright and aromatic, they are smoothly delicious.
The white wines are pale in colour, typically round with aromas of exotic fruit, citrus, white flowers or dried fruit.