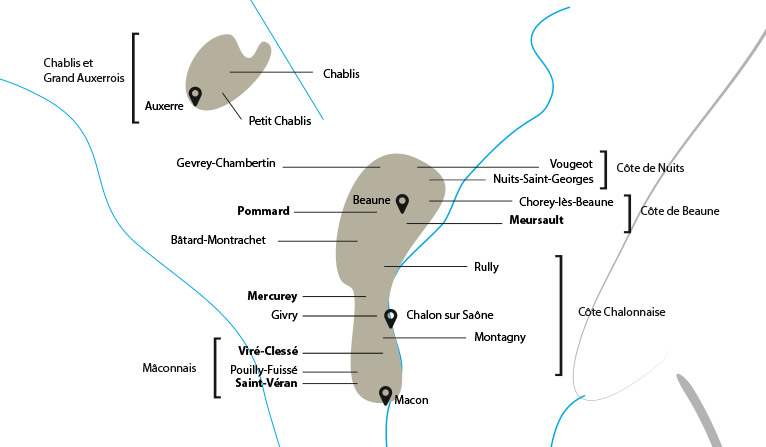 Grands Vins Sélection - established in the heart of Greater Burgundy
We are geographically ideally placed to offer you the best of what Burgundy has to offer. The region is renowned for its
fine wines of character.
. The vineyards of Burgundy are spread around more than 300 villages, and are made up of five distinct wine regions:
Chablis et Grand Auxerrois
Côte de Nuits et Châtillonnais
Côte de Beaune
Côte Chalonnaise
Mâconnais
Prestigious appellations such as Chablis, Chablis Premier Cru, Côte de Beaune, Côte de Nuit, Montagny Premier Cru and Saint Véran are some of our biggest references. Burgundy represents 9% of our volumes.
Burgundy, heritage vineyards and ancestral skills
Vine growing has been traced back to the gallo-roman period in Burgundy. Transport and communication channels such as the River Saone were instrumental in the expansion of the vineyards. In the middle ages the region had already acquired a certain economic importance and was internationally known. The role of the church via the abbeys and the monasteries, and the nobility in the development of the notoriety of these wines is well known. Cluny, Cîteaux, Pontigny, the Chapitre de Langres, and the Dukes of Burgundy, each in their own way contributed to the construction of the prestige of these vineyards and the reputation of their wines.
Tasting Burgundy Wines
The reds and the rosés of Burgundy often present a fine, velvety tannic structure and superb fruit characters. The whites, made with Chardonnay, are opulent with an underlying acidity necessary for perfect balance and cellaring potential, and often rich and powerful. The latitudinal spread of the geographical zone means that character of the wines can pinpoint their origin with precision:
In the Yonne, the wines are highly structured with marked acidity
In the southern area the wines are more supple