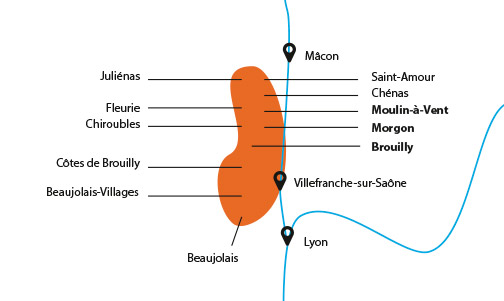 Our estate : Domaine Versant du Soleil


Our own estate, the Domaine Versant du Soleil, is situated on magnificent parcels at between 300 and 400 metres altitude, spread around the villages of Blacé and Vaux en Beaujolais, on the hillsides north-east of Villefranche, and in the Beaujolais hills overlooking the plain of the Saone, which allows us to make a
Beaujolais Villages
of excellent quality. The steep sandy and clay slopes allow the Gamay grapes to express all their aromatic qualities. With a production of 95 hectolitres (or 12500 bottles), this wine is highly sought after! Our wine is perfect as an aperitif with tapas, dried hams, salads, red meats and mature cheese. It is a beautiful ruby colour, with a nose of red fruits and spice and a smooth palate with silky tannins. We also propose our estate wine in a primeur version : a festive new wine that is fruity and delicious.
Grands Vins Sélection - Trading House and Bottler of Beaujolais Nouveaux 
Beaujolais Nouveau Day is a unique popular international festival dedicated to wine! The festivities kick off each year on the
third Thursday of November at midnight.
Today Beaujolais Nouveaux represents over half of the consumption of Beaujolais outside of France. Our company is in the heart of the Beaujolais vineyards. Our knowledge of the wines, of the markets and customer requirements means we are able to respond to all your demands. Every year our Beaujolais Nouveaux wines receive accolades at the Lyon Beaujolais Nouveau Trophy! If you are looking for a quality Beaujolais Nouveau that will reflect your image, contact us. As blenders we can even propose a wine adapted to local tastes with bespoke packaging designed with your target market in mind.
Grands Vins Sélection - Trading House and Bottler of Beaujolais
With 10 crus as well as the Beaujolais and Beaujolais Villages appellations, this region has a choice of
wines of different style and character !
Each of the 10 crus has its own particular personality linked to the terroir, which fall into several families :
Light and fruity  : Brouilly, Chiroubles, Régnié and Saint-Amour
Succulent and intense : Côte de Brouilly, Fleurie and Juliénas
Full bodied and generous : Chénas, Morgon et Moulin-à-Vent
We are able to offer all 10 Beaujolais crus and Beaujolais and Beaujolais-Villages adapted to your market. Our work is 'made-to-measure' in order to create products tailored to your needs.