Our vineyard
Domaine Versant du Soleil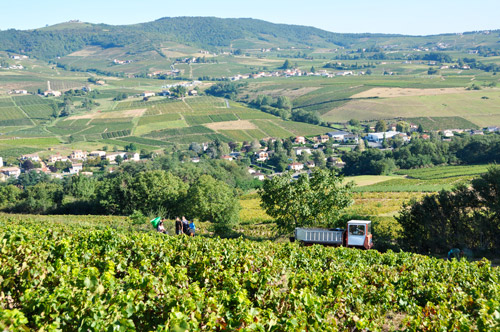 In addition to our trading and blending activity, we are proprietors of our own estate, the Domaine Versant du Soleil, where we craft our own wine in the heart of the Beaujolais. Here we work with the same rigour and the same respect for the terroir to obtain top quality wines.
A superb situation in the heart of the Beaujolais
Our estate is in the Beaujolais wine growing region, within the Greater Burgundy vineyards. The plots of vines are situated between 300 and 400 metres altitude, spread around the villages of Blacé and Vaux en Beaujolais, on the hillsides north-east of Villefranche, and in the Beaujolais hills facing the Mont Blanc. The vines, farmed using reasoned methods, are between 30 and 70 years old! They total 10.5 hectares, all picked by hand, which allows us to make a Beaujolais Villages of excellent quality.
Traditional winemaking with respect for detail
Our wines are made traditionally, with whole bunch maceration, and pressing at controlled temperatures. The wine then continues its maturing in stainless steel vats to preserve all the freshness and vivacity of the fruit.
A deliciously fruity Beaujolais Villages

A lovely ruby red coloured wine, with aromas of red fruits and spices. The palate is beautifully smooth with silky tannins. Perfect as an aperitif with tapas, or will accompany charcuterie, mixed salads, red meats and mature cheeses. You can continue to enjoy it for 2 to 3 years.


A Beaujolais Villages primeur brimming with juicy fruit

With its gleaming purple colour and intense nose of blackcurrant, blackberries and candies, this wine offers the pleasure of smooth, juicy fruit. It is ideal with cheese, cold meats and terrines, cured sausage, red meat or great simply on its own shared with family or friends.